Resources
Mobile and Online Banking
Mobile Banking
Mobile Banking with First National Bank Minnesota is a must-have for those busy lives on the go.  Keep in touch with your accounts through our App, text messages, or Web Browser.
The convenience of Online Banking on your mobile device.  It is available to anyone enrolled in Online Banking. To enroll, log in to Online Banking, select Mobile Banking from the Options tab, and complete the enrollment process. It's that easy!
To get the App, search and download the TouchBanking App from your app store. After you download the TouchBanking application, you will need to enter the App Code, FNBMN123, to activate it.
The FREE service delivers:
Real-time account transaction information
Funds transfers
Alerts
Pay bills
Make deposits
MOBILE DEPOSIT
You can use our FREE Mobile Deposit service in Mobile Banking simply by choosing the Deposit function through your Smartphone's banking app.
How It Works
It's so easy! All you do is step through the Deposit process and take a picture of the front and back of your check using your phone to deposit your check no matter where you are.
1. Select the deposit button and choose to deposit check
2. Choose the account to deposit to
3. Enter the amount of the check to deposit
4. Endorse the check and write, "For Mobile Deposit Only, FNBMN" or "For FNBMN Mobile Deposit Only" on the back
5. Take photos of the front and back of the endorsed check
6. Verify and submit the deposit
Please keep your paper check until funds are posted to your account.
Deposits made before 4 PM CT on a business day will be considered for deposit the same day.
Deposits made after 4 PM CT may be considered for deposit the next business day.
Mobile Deposit is available free of charge. Mobile carrier fees may apply.
The check deposit limit is $2,500 and the daily limit for mobile daily is $2,500.

Online Banking
With Internet Banking at First National Bank Minnesota, you now have the convenience of a bank that never closes.
Do your banking anytime and anywhere!
There are no fees associated with this service. Log in to Online Banking and start using this product today!
Mobile Banking, Online Banking & Bill Pay Service Agreement
Card Valet
Introducing CardValet®. Your card, on your terms.
Help safeguard your card!
CardValet® allows you to turn your credit or debit card "on" or "off" anytime. When they're "off"…no one can use your cards. Turn them "on" when you're ready to use them!
Bill Pay
Bill Pay
Bill Pay is the easier, faster and safer way to pay all your bills. Hop into the convenience of paying all your bills from one secure website and gain greater control over both your time and your finances.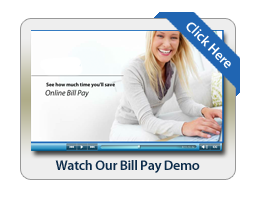 Rates
Current deposit rates are available, contact one of our universal bankers today. Current loan rates are available also, please contact a member of our lending team today.
eStatements
You can stop your paper statements and start receiving them online. In an effort to increase your security and to reduce paper waste and postage expense, First National Bank Minnesota is giving you the opportunity to enjoy the convenience of eStatements. This feature allows you access to your monthly statements electronically.
Once you sign up for this free service, you will be able to view or download your statement anytime through our Online Banking site. That's right, one log in provides you access to your account information and statement documents.
Sign up is easy:
If you are already an Online Banking Customer, after log in you will be prompted to select Accept, Decline, or Ask Me Later for eStatements. If at anytime after selecting Decline or Ask Me Later you want to sign up, just go to User Options and click Edit for eStatement Enrollment.
If you are not already an Online Banking Customer, go to our home page and click First Time User near the left side of the screen under Online Banking; follow the prompts to finish setting up online banking. After this initial log in, you will be prompted to select Accept, Decline, or Ask Me Later for eStatements. If at anytime after selecting Decline or Ask Me Later you want to sign up, just go to User Options and click Edit for eStatement Enrollment.
At the end of each statement cycle, you will receive an email letting you know your eStatement is ready. Just log in to your online banking account, click on the account number link, go to the Documents link at the top of the window, and click Submit. As each statement cycle passes, your list will grow to a maximum of six months worth of statements. We encourage you to regularly download your statement for long term reference.
This long-term storage (longer than 6 months) of your statements can be done by saving the PDF file to your computer or portable storage device (i.e. CD or USB drive.) To do this, open the statement and select File, Save a Copy and select where you want the file saved.
Helpful Tip: Backing up your saved files on a regular basis is highly recommended. A possible backup method would be to save them on a CD or USB drive and keep it in your Safe Deposit Box at the bank. The annual Safe Deposit rent notice would be a convenient reminder to replace or update your statement backup CD or USB drive.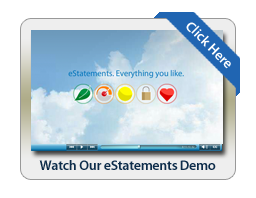 Calculators
We have a variety of calculators available powered by TimeValue including home financing, personal financing, investments, retirement and lease. Click here to view calculators.
Debit/ATM Cards
ATM – Check Cards
An ATM Card allows you to access your money at ATMs (Automated Teller Machines) across the United States and abroad. You can access your cash when you need it – 24 hours a day!
The Check Card (commonly referred to as a debit card) has the same features as an ATM Card and more. It allows you to present your Check Card to make a purchase at any merchant that accepts debit cards instead of writing a check. Your transaction will be deducted from your checking account and will appear on your monthly statement. Use your Check Card to shop over the phone, online, or at your favorite store.
 If your card is lost or stolen please call (800) 658-2353 during regular business hours or (800) 472-3272 after hours.
Credit Cards
We partner with ELAN Financial Services in offering a variety of credit card plans to qualifying applicants. Your options include Student Cards, Corporate Cards, and Personal Cards with a variety of Reward Options. Our universal bankers will be happy to assist you with your Credit Card needs and options.
If your card is lost or stolen, please call (800) 558-3424.
Safe Deposit Boxes
A safe deposit box is a place to centralize important documents and valuables. Identity verification, access rights according to the lease, along with one of two keys issued to the renter are required to gain entry to the safe deposit box.
We have boxes available for lease in several sizes and the annual payments can be deducted automatically from your checking or savings account.
Common things stored in safe deposit boxes include:
Real Estate Abstracts
Insurance Policies
Automobile Leases/Titles
Loan Documents
Birth Certificates
Marriage License
Income Tax Records
Personal Valuables (Jewelry, Family Heirlooms, Coin Collections, Computer Back-up Tapes)
Passports
Stock Certificates
Household Inventories
Savings Bonds
Income Tax Records
Trust Documents
Wills
Credit Card Information
Insurance Policies
Property Deeds
Stop in at one of our locations today to select a safe deposit box that is right for you!
*The contents of your safe deposit box are not insured against loss by FDIC insurance.
Identity Theft
No matter how careful you are, you can still become a victim of identity theft.
Each day, criminals find new ways to steal personal information, like Social Security and driver license numbers, so they can take over existing accounts and open fraudulent new ones.
Each year, between 7 and 10 million Americans will fall prey to identity theft. Each victim will spend valuable time and money restoring their credit standing and personal reputation. Some victims may even be forced to prove their innocence against unwarranted criminal charges.
If you become a victim of identity theft, you need to know about it right away.
The longer criminals have your personal information, the more damage they can do.
Seek extra protection right away!
Identity theft poses a serious threat to your personal and financial reputation. You deserve the peace of mind.
If you have any concerns about "Identity Theft" please contact our universal bankers today.

Applications & Forms
Welcome to the First National Bank Minnesota Application Center. We look forward to the opportunity to serve your financial needs.
It's easy to get started. Simply select and print the application you are interested in. Please note when printing an application, you may be required to install Adobe Acrobat Reader.
Click the image below to download free version of Adobe Acrobat Reader.
Once you have completed the necessary information, getting it to us is as easy as 1-2-3! Just select one of the following:
1. Fax the completed application to us at (507) 931-3624 (St. Peter), (507) 625-2010 (Mankato) or (507) 237-5481 (Gaylord)
2. Mail the completed application to us at 226 Nassau Street, St. Peter, MN 56082, 500 Long Street, Mankato, MN 56001 or 209 Main Avenue, Gaylord, MN 55334
3. Bring the completed application to us at the above address. To speed up the application process, contact us prior to bringing in the application to set up an appointment with a Universal Banker or Lender.
Checking, Savings, Certificate of Deposit, & IRA Application
Your business is important to us. When you are opening a new account, you are most likely also closing an account elsewhere. We have developed the "Easy Switch Program" to assist you in moving your accounts. Click here for your Easy Switch Program form.
First Choice Club
First Choice Club
As a club member, you will receive many bonuses, offers, and opportunities to reward your hard work and careful money management throughout your life.
When you open a First Choice Checking account, it will include an account with a cash card or check card with no monthly fee, combined with unlimited check writing. In addition to this we offer many other services and benefits. Please see your universal banker for complete details of your account.
Social Events
When you have a minimum of $5,000 in combined deposits, a variety of fun and creative activities are available to you in our Club. You can enjoy social gatherings with food and entertainment with other club members. Our members also enjoy traveling to plays, exhibits, historic sites and sporting events. You can enjoy special rates and worry-free travel while we make all the arrangements and plans!
Join the club today!
First National Bank Minnesota Customer Survey